Nursery
Rainbow Class - Mrs Spencer and Mrs James, Mrs Thompson, Mrs Sharpe, Mrs Owen and Mrs Wall
In Rainbow class, we have broad topics to fire the children's imaginations. These usually run over a three week period and details can be found below. However 'lessons' or 'activities' are not mapped out for the day, week or year. We carefully structure our day with two social 'carpet' times and one adult-led, interactive story/song session. The rest of the day the children are free to choose their play and experiences and our staff are there to 'facilitate learning'
Planning for learning

The cycle of observation, assessment and planning is carried out on a moment-by-moment basis. Each week we select our focus children (approximately 10% of the group). Our staff then record one or two high quality interactions in detail for each of them. These are handwritten, incorporating photographs and the voice of the child. Teaching points are highlighted. In this way, what starts the week as a blank planning sheet ends up as a detailed record of the child's experiences and learning. It also highlights how skilfully our adults enhance and extend learning at the appropriate level.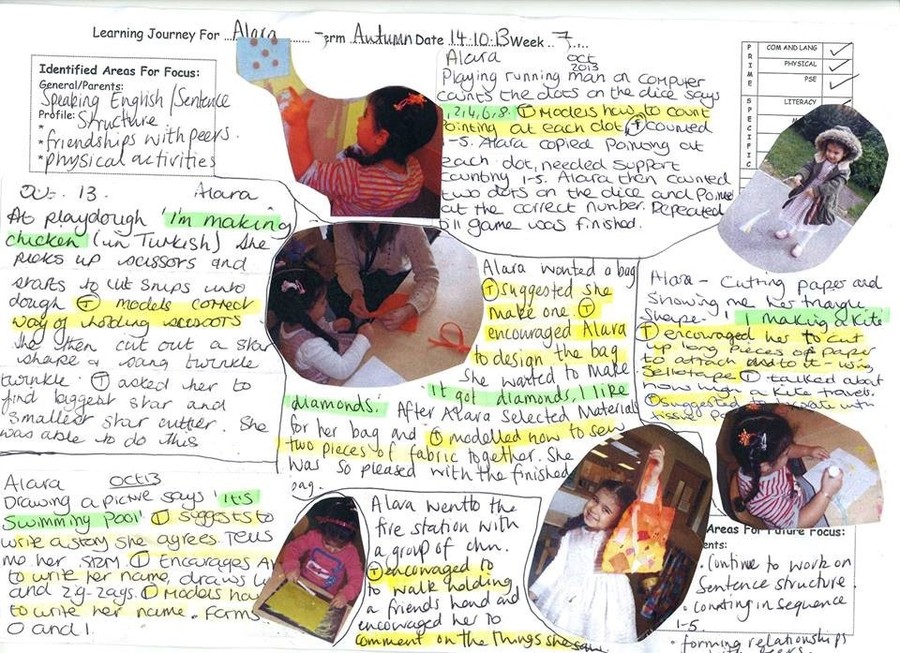 Group activities and learning are also captured through photographs and captions on our i-pads and shared with parents through our online learning journal programme, 'Tapestry'. We have found this to be a wonderful way of sharing the children's experiences instantly with parents and also gives us a valuable insight into our children's home experiences. Parents and children enjoy uploading photographs or comments of learning experiences at home.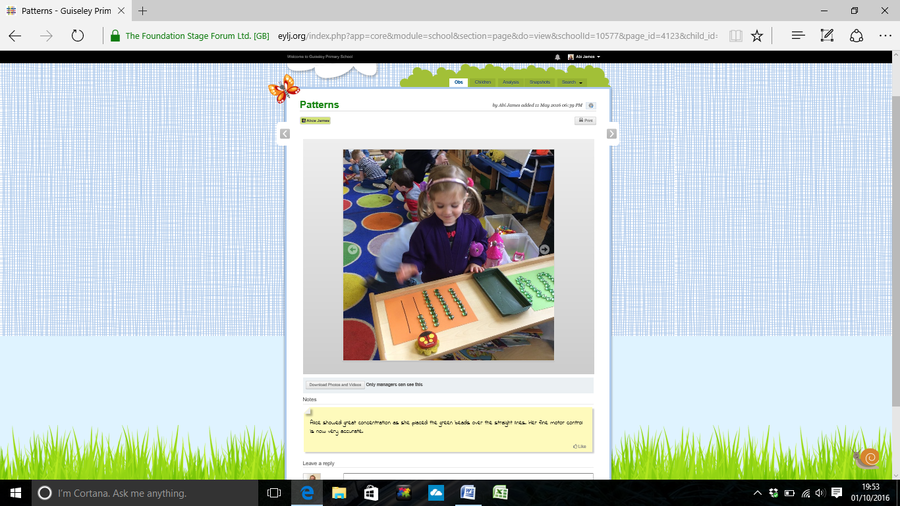 We work in this way because ...
"Babies and young children are experiencing and learning in the here and now, not storing up their questions until tomorrow or next week.
It is in these moments of curiosity, puzzlement, effort or interest – the 'teachable moments' – that the skilful adult makes a difference.
By using this cycle on a moment-by-moment basis, the adult will be always alert to individual children (observation), always thinking about what it tells us about the child's thinking (assessment), and always ready to respond by using appropriate strategies at the right moment to support children's well-being and learning (planning for the next moment)."
From National Strategies document Learning, Playing and Interacting P.22 - 23
''Teaching is all those different things that you do as adults to help young children learn…communicating, modelling language, working with children as they initiate their own play and activities, being ready to intervene in the moment, demonstrating how to do something, explaining why something is as it is, showing children something, exploring ideas with them, encouraging them, questioning them, checking what it is they are understanding, helping them to record something that they did so that they get the structure and sequence of events, providing a narrative for what they are doing, facilitating what they are doing, setting challenges, all those sorts of things are the sorts of things we mean when we talk about teaching.''
Jane Wotherspoon – Lead HMI for Early Years.
''Practitioners must consider the individual needs, interests and stage of development of each child in their care, and must use this information to plan a challenging and enjoyable experience for each child in all areas of learning and development.''
Revised EYFS 2014.
In Rainbow class adults will…
• Spot 'teachable moments'.
• Engage in quality interactions.
• Record the progress each child makes.
• Go to the children & take the learning to them.
• Enhance learning not interrupt it.
• Ask 'I wonder…' questions.
• Try not to speak until the child requests it. And finally……
• Be relaxed.

An Enabling Environment
We have a workshop style environment both indoors and outside. We do not 'set out' activities for the children, but rather support the children to choose their own interests. The children are supported to select what they want to do in each area, based on their learning and development needs. The principle is that resources are accessible to the children, and that they are varied, open-ended and high quality.
To summarise
• We have 'focus children', NOT focus activities.
• The adult goes to the child. The child is NOT called to come to the adult.
• We work this way because research has shown that high-level involvement and learning occurs in child-initiated activity.
TOPIC LIST for 2018/19
AUTUMN 1
The start of the Rainbow.
Autumn arrives.
AUTUMN 2
What's a box?
Christmas Sparkle.
SPRING 1
Snow, ice and cold winds blow.
Julia Donaldson Stories
SPRING 2
Hearts, hugs and happiness.
Spring has sprung
SUMMER 1
Fairy Folk.
Nature and growing.
SUMMER 2
Water, water everywhere.
End of the Rainbow.