Nursery
Rainbow Class - Mrs Bradbury and Mrs Spencer
Admissions September 2021 - Open Day Video
As we are not able to show you around our school in person, please click on the video below to meet some of our wonderful staff, happy children and to take a look around our fantastic provision!
For more information, please call the school office on 01943 873359 or email office@guiseleyprimary.org.
For those who are joining Rainbow class in September, watch the video below to see a welcome message from your new teachers.....
At Guiseley Primary School we believe that quality early learning experiences are essential in providing the foundation for future success.
In FS0 and FS1 we enrich the environments so that children feel secure and happy, with access to motivating and challenging learning experiences. Children are valued as individuals and we aim to follow their interests and needs to provide personalised learning opportunities, that promote excellent levels of progress and development. We strongly value parental contributions to children's learning and enjoy the opportunity to work with parents and carers to achieve the best possible outcomes.
"Relationships between children and children, and between children and adults, are strong and respectful which means children's behaviour is outstanding as is the case in the rest of the school" Ofsted March 2018
Your world, our world. Together anything is possible.
Our Nursery has spaces for children from age 3. For availability please contact  the school office.
We offer 15-hour places, they are grouped into the following sessions:
Every morning 9am-12pm
Every afternoon 12.15pm-3.15pm
All day Monday and Tuesday (9am-3.15pm) and Wednesday 9am-12pm
Wednesday 12.15-3.15pm then all day Thursday and Friday (9am-3.15pm)

We have a number of 30-hour places available. If you are eligible for 30 free hours per week you would need to provide us with a code from the government website.
Wrap around care is offered from 7.30am-9am and 3.15pm-6pm.
Before and after school club spaces are available and we offer flexible hours. Children can stay full days and have a school dinner or bring a packed lunch.
Look at our fantastic outdoor area; this is a shared space that both FS0 and FS1 access:
"The outdoor physical environment is outstanding. There is free flow system in place so that all children can access the outdoor area throughout their session"
Healthy Schools Early Years Inspection. November 2018
Group activities and learning are captured through photographs and captions on our i-pads and shared with parents through our online learning journal programme, 'Tapestry'. We have found this to be a wonderful way of sharing the children's experiences instantly with parents and also gives us a valuable insight into our children's home experiences. Parents and children enjoy uploading photographs or comments of learning experiences at home.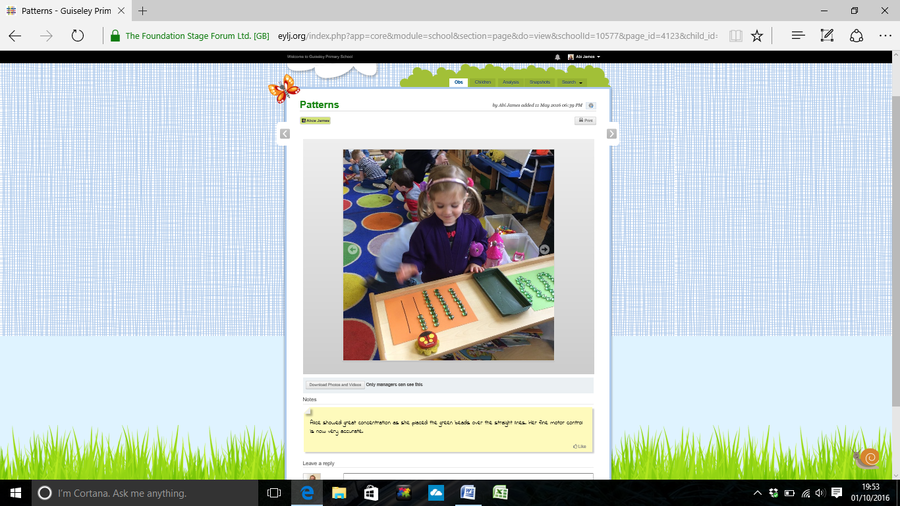 Nursery curriculum overview