Year 3 blog
Year 3 - Spring 2 Term - The Romans
We have had a very busy few weeks this half term. The first two weeks started off with half of the year group still learning at home, but on the 8th March we finally got everyone back together, which was fantastic! We spent lots of time during that week focusing on PSHE. We talked about what a worry or anxiety was, how it might make us feel, and what we could do to when we felt worried about something. Together, we came up with all sorts of ideas, including talking to others and adults about our worry, writing things down that were worrying us, and we also practised lots of different mindfulness activities and did some yoga. Hopefully the children will remember these skills next time they are feeling worried, and be able to put them into practise.
Our topic this half term was The Romans, and what an interesting topic it has been! Because of the year group not being together for the first two weeks of term, we have decided to continue this topic at the start of Summer 1, and will be ending it with a 'Year 3 Roman Day,' on Thursday 29th April - so be sure to ask your children about all of the exciting things that they do on that day!
The children have been very engaged in this topic, and have learnt all sorts about the Romans. We have looked at timelines, discovered what an empire is and how the Romans expanded theirs. We have explored key people, such as Julius Caesar and Boudicca and their influences during the Roman era, learnt about how the Romans invaded Britain, and also what they were famous for/how they influenced Britain. The children especially loved designing and making their very own Roman shields (which will be used on our 'Roman Day'), as well as some wonderful Roman mosaics! Have a look at our photo gallery to see some pictures of them.
In Science, we have been learning about Forces and Magnetism. The children have explored different types of forces, conducted experiments, explored magnetic poles as well as objects which are magnetic and those which are not, and discussed why this is. The children in Pink Class had a home challenge which was to try and create their own magnetic game, and the results were outstanding! We spent a whole afternoon sharing and playing the games, which were thoroughly enjoyed by all! See the gallery for some photos of these works of art! We will also be continuing with this topic for the first couple of weeks of the Summer 1 term.
PE has continued to be outside, twice a week this half term, with a focus on rugby skills. Ask your child if they can show you what a 'pocket pass' is, and how to hold a rugby ball - they should definitely know!
In English, the children have been learning all about playscripts. They are now experts at knowing the features of a playscript, and have written at least two scenes based on the story of 'The Journey,' by Aaron Becker. We have been so impressed with some of the imaginative ideas and use of language from the children, and a selection of playscripts can be seen in the classrooms and in the photo gallery too.
Maths has had a focus on recapping the skills that were learnt during schools closures, and also focused on measures, including comparing and converting different lengths, calculating the perimeter of 2d shapes, and solving problems linked to both of these areas.
We can't quite believe that the Summer term is almost here! Another busy and exciting few weeks ahead, and lots of sunny weather to enjoy we hope!
There are a few photos below of our work, but please click here to see a selection of photos of some of the fantastic work that Year 3 have produced during the Spring 2 half term.
Year 3 - Spring 1 Term - The Egyptians
Well it certainly hasn't been the start to 2021 that we had all expected at school and in Year 3. Nevertheless, we are so proud of all of the children (working at home and those in school), for all they have achieved this half term. It certainly hasn't been easy for many of them (and for parents and carers too!), and we are incredibly grateful for all of the support parents have provided during the last 8 weeks.

The Egyptians was our main topic during the Spring 1 half term, and it proved to be a very popular topic. We were amazed at some of the outstanding work that many of the children produced for their Egyptians homework task. We had 3D pyramids, fact sheets and posters, scriptures and hieroglyphics, and even a real life Egyptian Queen giving us the lowdown on her Egyptian clothing and make-up! It was great to be able to base lots of the history lessons on questions that the children themselves had posed, and we hope that the children enjoyed the variety in the lessons that they listened to and took part in.

Science also seemed to have a good response from the children at home and in school. Our focus was 'investigations' and this enabled the children to engage with a number of different experiments based on all sorts of things - from making rocket mice fly, to finding out how many pennies a wet sheet of toilet paper could hold - the children embraced these investigations and we loved seeing videos, explanations and results on Seesaw and in school!

So as we move forward into the Spring 2 term, hopefully brighter days lie ahead. We cannot wait to have all of Year 3 back together in the next couple of weeks, and look forward to a new term and new topics!

To see some photos of the great Egyptian homework that we received, click here.
Year 3
admin on: Year 3
In December, the children wrote some beautiful shape poems about mountains: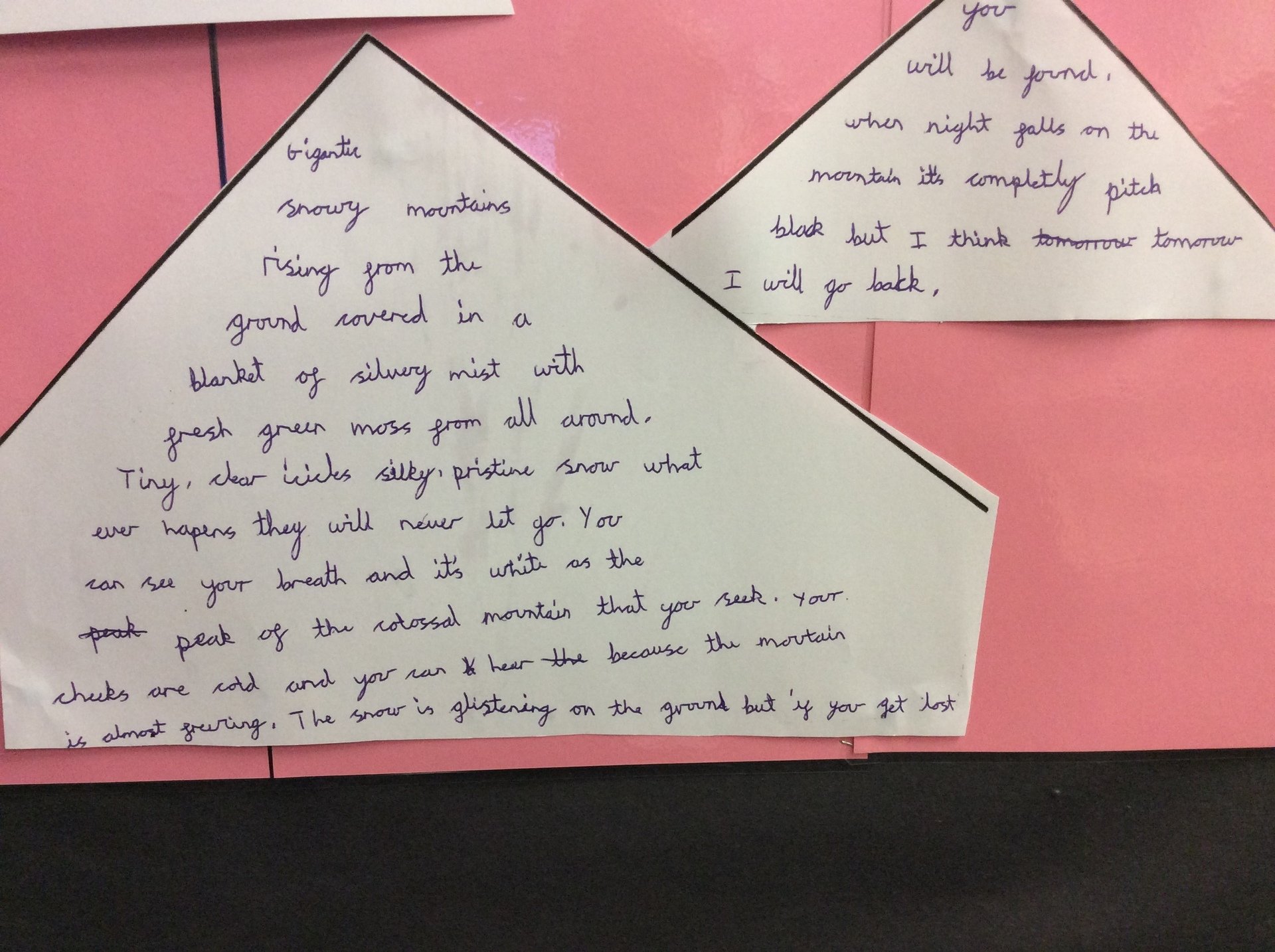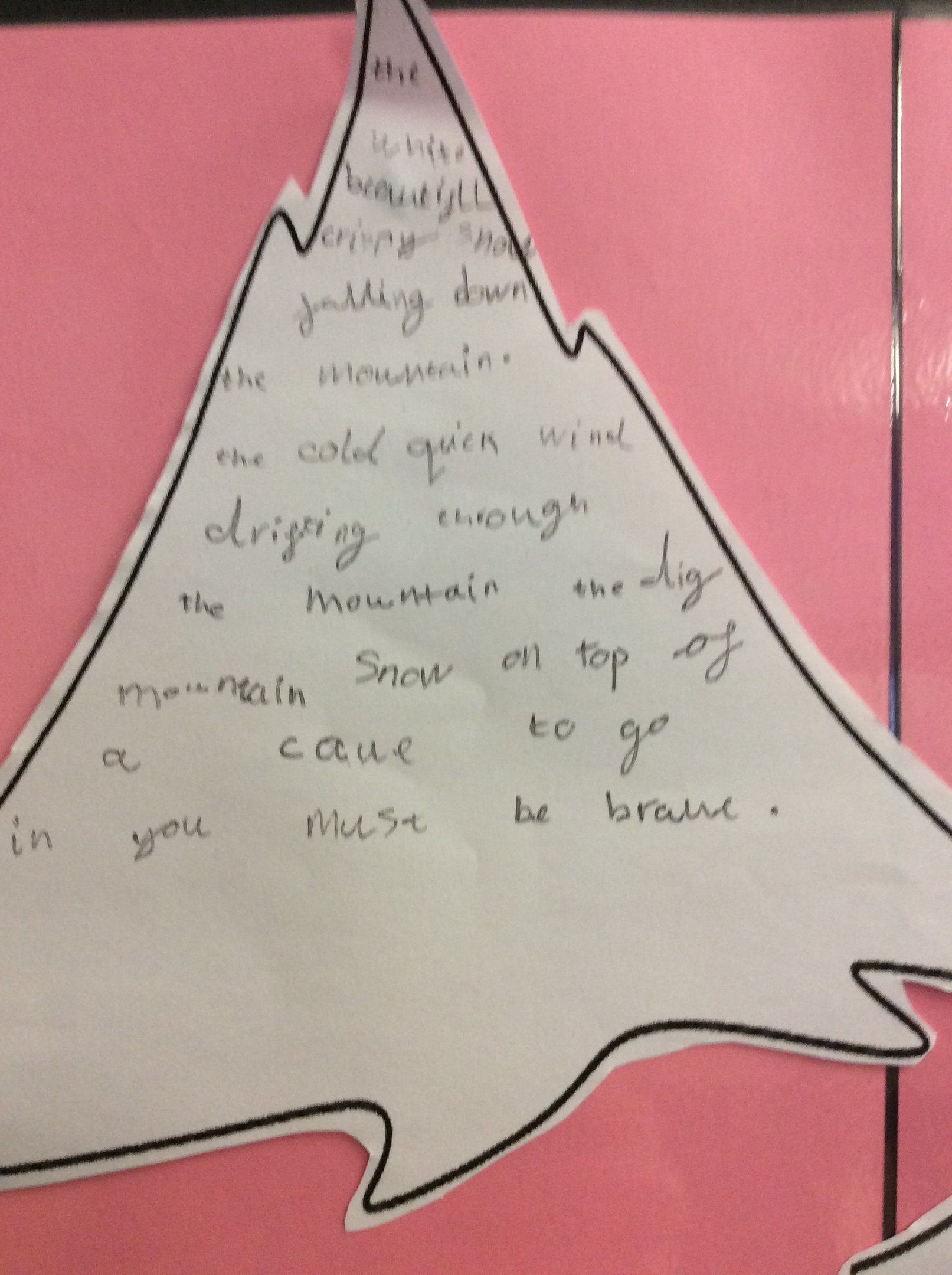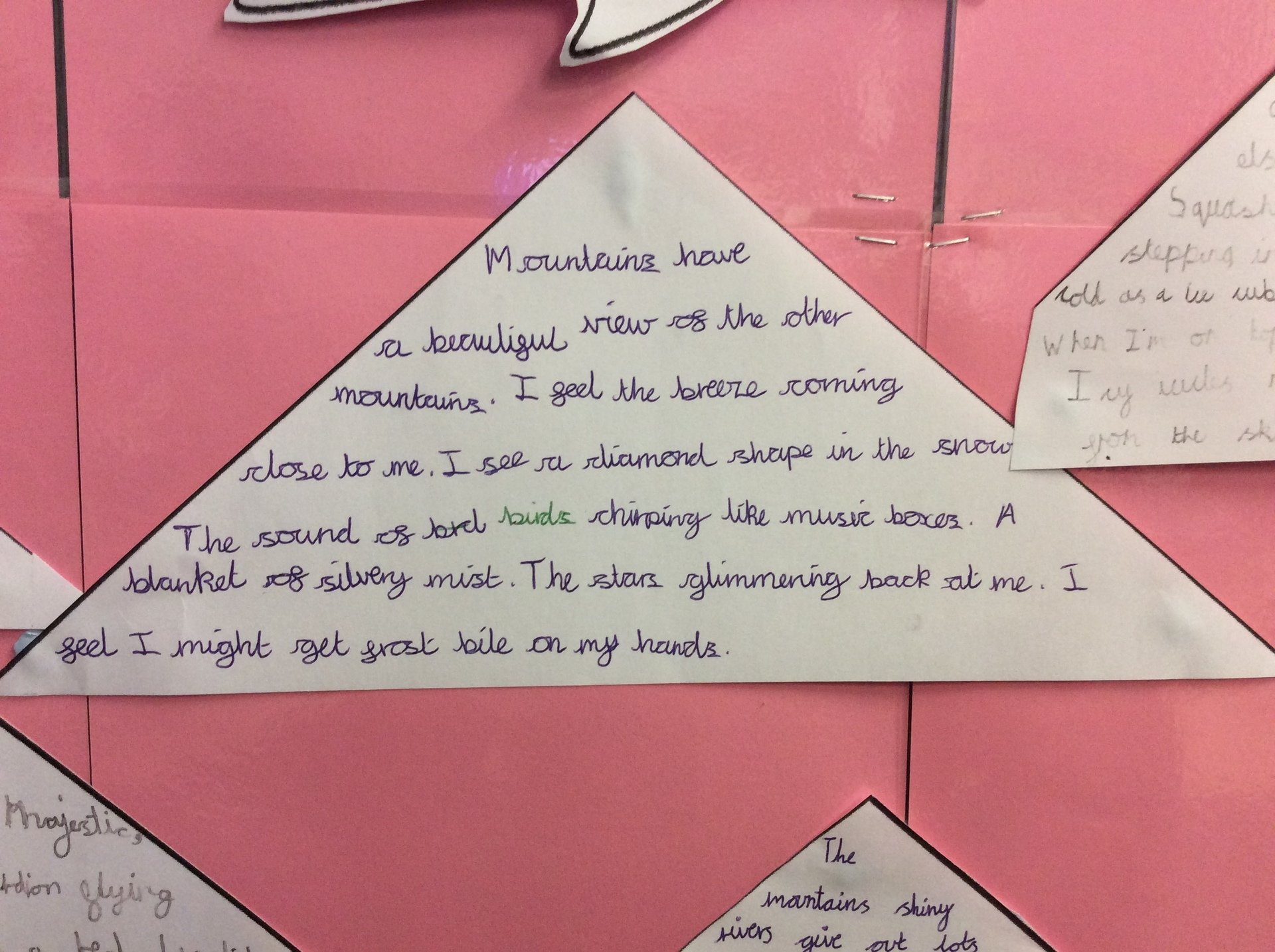 ---
admin on: Year 3
We have had a very busy first half term in Year 3! The staff have been so impressed with how well the children have all settled back into school life, and their positive attitudes to learning. They have taken much of the new rules and routines in their stride, and are now experts at hand washing!
Our main topic this half term has been 'The Stone Age rocks!' We have been reading the class novel, 'Stig of the Dump,' and the children have produced some fantastic instructional writing on how to work their very own 'Stig Pleaser,' which helps Stig to lead an easier life. The children worked on different aspects of this piece of writing over four weeks, including an introduction, sub-headings, 2A sentences and editing and improving their work. There were some very interesting ideas, and some fantastic descriptive sentences.
The children have learnt all sorts about The Stone Age itself. They now know the correct names of the different Stone Age time periods and can talk about the food that was eaten during this time (which included designing their own Stone Age menu - roasted mammoth head was particularly popular!). They produced some brilliant drawings and facts about a number of Stone Age animals, and also spent four weeks making their very own Stone Age tools. They designed them on paper, made them out of junk modelling materials, covered them in papier mache and finally painted them. We are incredibly impressed and proud of their finished weapons - they are just brilliant!We finished off the topic in the final week by getting the children to create their very own versions of Stone Henge made out of biscuits. A very popular activity as you can imagine!
In Maths the children have been learning different methods to add and subtract two and three digit numbers with an exchange (for example, exchanging ten tens for an extra hundred). They have practised this using/drawing base 10, using a number line and drawing their own place value counters. This is a tricky concept, but all of the children tried hard with it, and we will continue to re-visit using these methods some more in Maths.
Art week was another success this year, and Year 3 decided to focus on the 'pop art' artist, Andy Warhol. After researching this artist, the children designed four identical, brightly coloured Harvest baskets, filled with different fruits and vegetables. They look very effective and we definitely have some budding future artists in our class!
Please click here to see a selection of photos of some of the fantastic work that Pink Class have produced.
With that, we look forward to an exciting second half of the Autumn term, where our new topic will be all about Mountains and Volcanoes.
---