Art
REVIEW FOR ART 2017
2017 has been a fantastically creative year at Guiseley Primary School. At the start of the year we made fantastic use of the Leeds 'Artemis' Picture lending service. I went to choose the paintings and the following day 10 large frames of work were delivered and then displayed around school. The children's response to the art work was great and the pictures were used as a topic of conversation in class. I am looking forward to choosing the next 10 pieces in Oct 2017 with the theme of 'Landscapes'.

Staff received a jam packed training session in October from Tony Bullock (visiting Artist and Art's in Education co-ordinator for Bradford CC). Lots of his ideas such as models from tape and bags, art hunts and masks from cardboard have all since been successfully used in class.
We have again worked with artist 'Dan the Den Man' in Year 3. Dan comes from a sculpture background and worked with the children and staff to encourage thinking about space, shape, form and stability in a large 3D context. This was enjoyed enormously by all involved and I am told that all groups managed to create a stable structure by the end of the day.

Our International Week in October and our WOW week in March continue to be fantastic artistic outlets for staff and children and were both a huge success. The end of week classroom displays are beautiful, interesting and imaginative. Some of my favourite displays were the delicate Chinese water paintings, the bright colours of the Spanish fans and the beautifully decorated babushka dolls.

Our after school 'lego' club continues to be a very popular choice with the children and Mrs Turner and Miss Gaster ran knitting club for the third year and look forward to continuing this in Oct 2017.

Another aim for this year was to raise the profile of Art in School with a high profile 'Whole School Art Project.' This has been a fantastic success and our 6ft 3D giraffes are now much loved celebrities around the school corridors.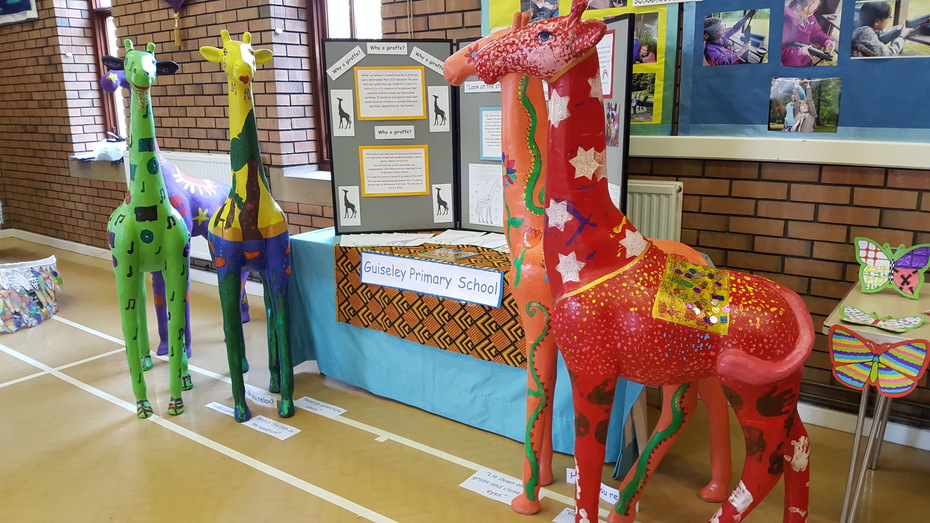 The giraffes started out their lives as cardboard body parts in a box but over the space of 3 months they have been transformed into a rainbow herd. The Giraffes have been successfully exhibited twice in this Summer Term. Once at the Aireborough Art Exhibition in The Guiseley Methodist Church Hall and again during our wonderful Children's Day event. We now plan to keep our sculpture herd wandering the corridors until an appropriate PTA fundraiser where I hope to auction off the first of the giraffes. We will repeat this until all but one remain.
Many thanks for your continued support and here's to a creative 2018!