Whole school events
BREAKING NEWS........ Our Y6 girls cross country team have qualified for the Leeds final on 2nd February 2023 as well as 3 wildcard runners Molly, Finnley and Alethea. A FANTASTIC result everyone. Well done!!
Eco Warriors Environmental Afternoon at Nunroyd Park
Friends of Nunroyd Park were thrilled to have twelve extra pairs of hands to help out on Monday this week. The Eco Warriors helped tidy the park by picking up litter initially and then helping plant some trees. It was great teamwork as they worked together to carry the heavy soil over to the planters. Once they had poured some in, they placed the trees before filling with more soil. Muddy hands and smiley faces! The children were all very sensible walking to and from the park. Well done everyone for proudly representing our school!
A HUGE thank you to Mrs Schack and Mrs Owen and to Marcus and Will from Guiseley Community Foundation for their support!
Cross Country Qualifiers at a very wet Wharfemeadows Park! Sports Report by Amelia
On Wednesday 33 key stage 2 children took part in the first round of the school cross country competition.
We would like to say a big thank you to the teachers for their continued support and a special shout out to Mr Ljustina and Mrs Schack who took us on their non working days.
Everyone ran so well, Year 3 started the competition with amazing results, followed by Years 4,5 and 6 with lots of runners finishing in the top 20!
It was the wettest competition so far but we didn't let the weather dampen our spirits, we cheered each other on and congratulated every competitor. We are so proud to represent Guiseley Primary School and can't wait for the next race!
Harvest Festivals
This year, we celebrated our Harvest Festivals on Friday 21st October. Each year group shared a short presentation to the rest of their phase. It was great to see their artwork, poetry, songs with actions... there was even a Harvest Rap! Well done to the children and staff for organising and being a part of such a memorable celebration.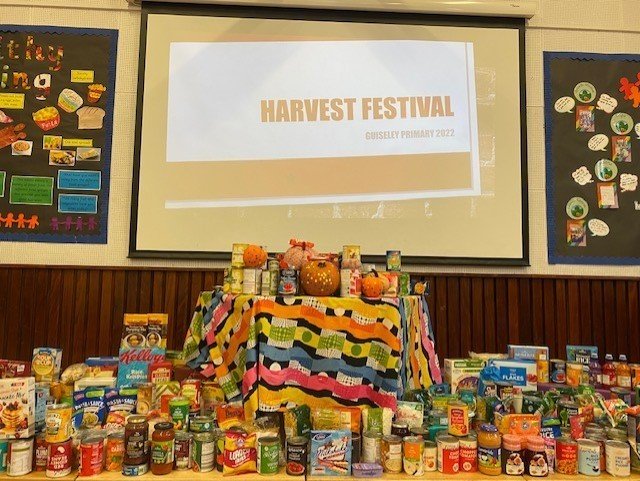 A HUGE thank you to parents and carers for your kind and generous donations. We are really pleased that this year all donations will be going back into our community to support local families.
To view 2021-2022 information and pictures, please click here.