Whole school events 2022-2023
Leeds Children's Mayor Summit
On Tuesday, our year 5 school council representatives went to Leeds Civic Hall for the Leeds Children's Mayor Summit 2023. The day started brilliantly when we were accompanied by our new governor Councillor Eleanor Thompson on her way into the office! What a pleasant surprise!!
At the Civic Hall, the children took part in lots of different activities. They listened to the manifesto written by the current children's mayor and found out what he had been up to during his time in post. They designed their own flag which incorporated our school ethos and the Olympics and were able to explain their choice of design to others.
The Lord Mayor and his wife also joined in the celebrations and told us what it was like to be the mayor and mayoress of Leeds. They have been to 400+ events this year, which means they have attended up to 3 events each day. WOW!
Throughout the day, we re-energised by taking part in some wake up shake up dances. Who knew Mrs Tomlinson had so many dance moves up her sleeve! Our children were so enthusiastic, they were awarded a Lord Mayor badge for their efforts!
After a delicious lunch, the children planned and wrote their own manifestos and listened to each other present these to the audience.
It was a wonderful day out and the children had a great time. Their behaviour, enthusiasm and commitment to their important role in school was fantastic to see.
Girls Football Tournament
This week, a squad of 9 Year 6 children took part in a football tournament at Yeadon Westfield Junior School. This was the first competitive match our team have played in together and they were BRILLIANT!
The communication, teamwork, resilience and sportsmanship was fantastic and everyone should feel extremely proud of their performance. After the tournament, the team had a go at shooting practice through a special net. It was great fun!!
King Charles III Coronation Celebrations
The children had a lovely time preparing for the King's coronation. They enjoyed making crowns, bunting and flags and enjoyed their coronation picnic despite being inside due to inclement weather!
Some year groups and our EYFS after school club, Sunset, created some artwork too. We hope you enjoy looking at some of the work produced across school!
West Yorkshire final cross-country
This week, a team of Year 6 girls and a runner from Year 3 took part in the West Yorkshire Cross Country Final at Temple Newsam. It was an amazing event and the children were BRILLIANT showing grit, determination, teamwork and sportsmanship. The Year 6 team finished 3rd overall, which is an amazing result and Molly ran a very competitive race in Year 3 as well. AN AMAZING ACHIEVEMENT!!
Year 4 skipping festival
Year 4 had a fantastic time at the skipping Festival. They were brilliant at demonstrating their skipping skills and there were smiles all round as they enjoyed the afternoon and supported one another. We came away with 3 bronze awards, 4 silver awards and 1 gold award. Well done children!
Rugby Tournament
During the final week of term, a team of Year 5 children took part in a tag rugby competition. They had a great time and represented school brilliantly, displaying excellent team work and sportsmanship. A child has written his account below:
'The rugby tournament was a lot of fun, I really enjoyed the competitive element there. We played six matches at the tournament and we won three, drew one and lost two. We scored four tries. I liked the seven aside games because there was a lot of space to play in - I'd definitely go again!'
A BIG thank you to Mr Child and Mrs Salmon for giving up their time to support the team.
The children and staff loved celebrating World Book Day on Thursday! The costumes were fantastic and the children enjoyed the book swap!
Year 1 Tropical World Trip
Year 1 had a wonderful visit to Tropical World on Friday. They have been learning about lots of different types of animals as part of their Carnival of the Animals topic so it was a lovely way of seeing lots of them in real-life!
The behaviour of the children as well as their enthusiasm was excellent. Well done Year 1!
Leeds Cross Country Final at Temple Newsam
This week, eight children from Key Stage 2 took part in the Leeds Cross Country final at Temple Newsam. It was quite a tricky course with several hills and a strong headwind! A typical February day in Yorkshire! However, the children were truly outstanding and ran with great pride and commitment. They were all desperate to do well and completely emptied the tank on a tough course.
All of the team represented the school brilliantly and should be extremely proud of their achievement.
WELL DONE TEAM GUISELEY!
Y2 cross country event at Rawdon Littlemoor
Seven Year 2 children took part in a cross country event at Rawdon Littlemoor Primary School with other schools from our community. The children were thrilled to take part in their first sporting event and they all really enjoyed the challenging 800m course.
They represented the school wonderfully and we even managed a podium finish in the boys race.
A big well done to all the children!
BREAKING NEWS........ Our Y6 girls cross country team have qualified for the Leeds final on 2nd February 2023 as well as 3 wildcard runners Molly, Finnley and Alethea. A FANTASTIC result everyone. Well done!!
Eco Warriors Environmental Afternoon at Nunroyd Park
Friends of Nunroyd Park were thrilled to have twelve extra pairs of hands to help out on Monday this week. The Eco Warriors helped tidy the park by picking up litter initially and then helping plant some trees. It was great teamwork as they worked together to carry the heavy soil over to the planters. Once they had poured some in, they placed the trees before filling with more soil. Muddy hands and smiley faces! The children were all very sensible walking to and from the park. Well done everyone for proudly representing our school!
A HUGE thank you to Mrs Schack and Mrs Owen and to Marcus and Will from Guiseley Community Foundation for their support!
Cross Country Qualifiers at a very wet Wharfemeadows Park! Sports Report by Amelia
On Wednesday 33 key stage 2 children took part in the first round of the school cross country competition.
We would like to say a big thank you to the teachers for their continued support and a special shout out to Mr Ljustina and Mrs Schack who took us on their non working days.
Everyone ran so well, Year 3 started the competition with amazing results, followed by Years 4,5 and 6 with lots of runners finishing in the top 20!
It was the wettest competition so far but we didn't let the weather dampen our spirits, we cheered each other on and congratulated every competitor. We are so proud to represent Guiseley Primary School and can't wait for the next race!
Harvest Festivals
This year, we celebrated our Harvest Festivals on Friday 21st October. Each year group shared a short presentation to the rest of their phase. It was great to see their artwork, poetry, songs with actions... there was even a Harvest Rap! Well done to the children and staff for organising and being a part of such a memorable celebration.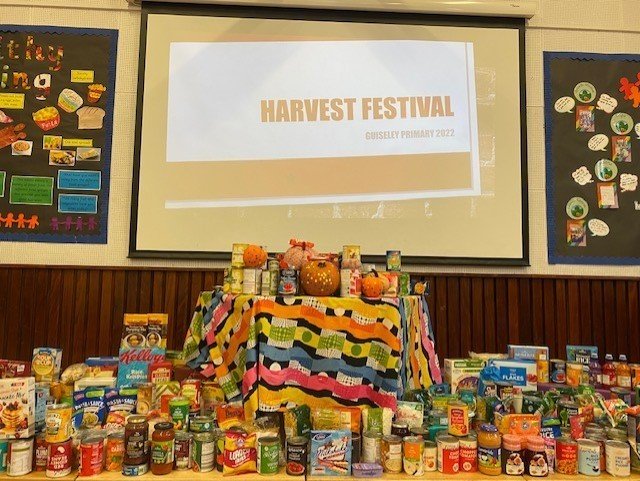 A HUGE thank you to parents and carers for your kind and generous donations. We are really pleased that this year all donations will be going back into our community to support local families.